Medical Cannabis and Cannabinoids EU
15 nov 2018 | 08:30 – 23:00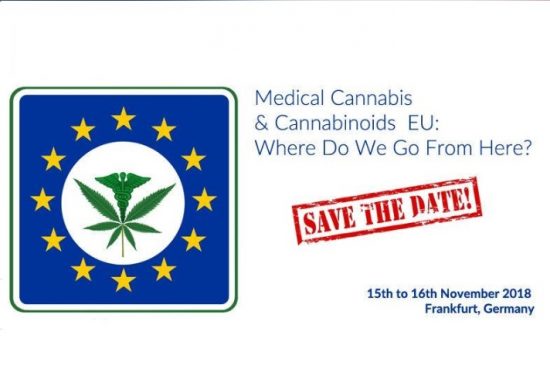 Medicinal Cannabis and Cannabinoids EU: Where do we go from here?
Medicinale Cannabis en Cannabinoïden EU: Waar gaan we naartoe vanaf hier?
Data: 15 en 16 november 2018
Union Halle, Frankfurt am Main, Duitsland. Tickets €295 (een dag) en € 395 (twee dagen). Groepskorting vanaf 3 personen.
About the conference /
Over de conferentie
MEDICAL CANNABIS & CANNABINOIDS EU: WHERE DO WE GO FROM HERE
Geopolitics and new legislation has generated major interest in medical cannabis world-wide. Forums and Events invite you to partake in a two day conference exploring the future of the Medical Cannabis industry in the EU.
WHERE DO WE GO FROM HERE? OUR PLATFORM:
Bridging collective interests within the industry to include scientific research, development, legislation, policy, patient advocacy, producers, business development and investment opportunities. This will inevitably create a strong synergy between participants and delegates. The end result being constructive, informative, and thought provoking for everyone whether novice or expert in the trade market.